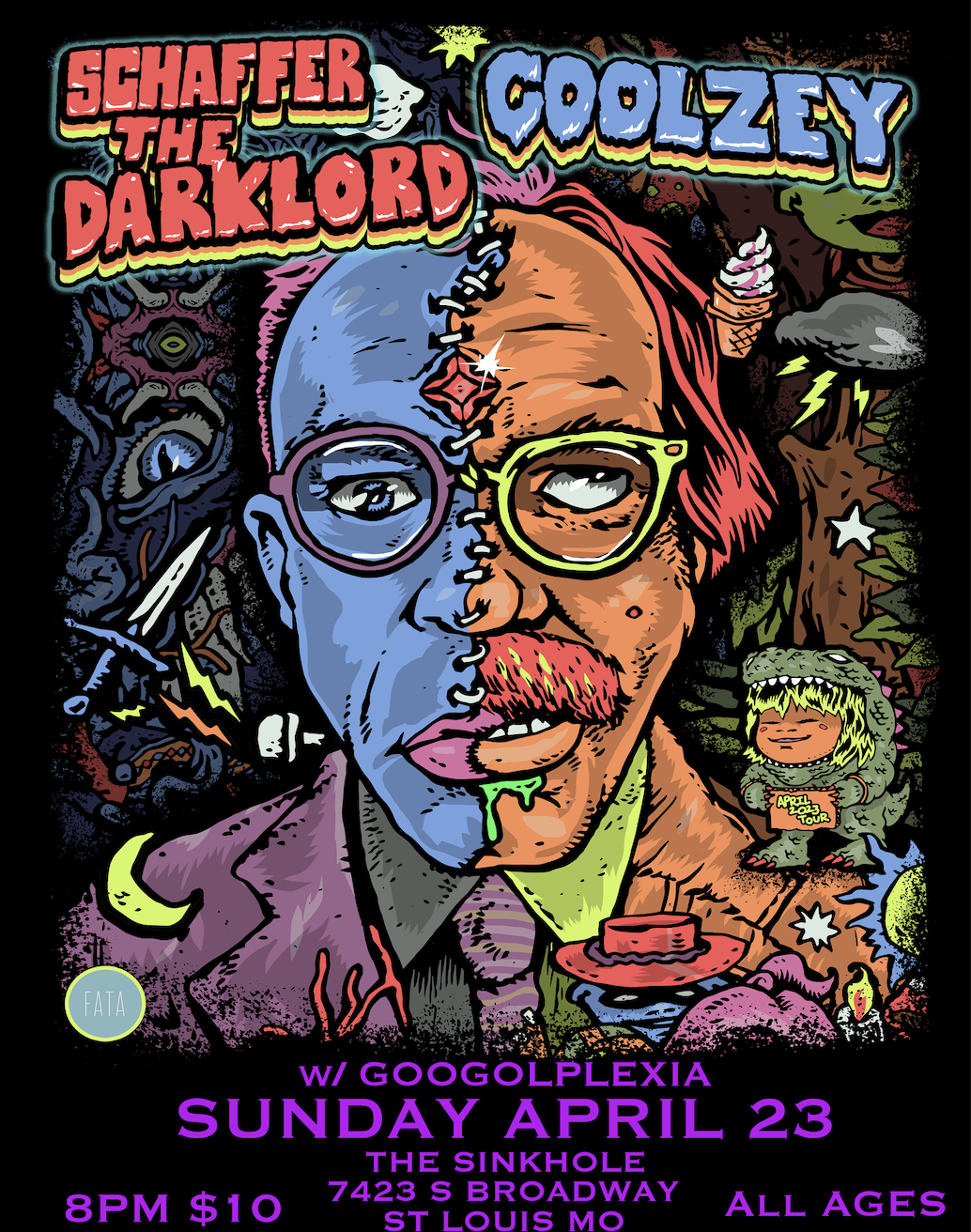 Schaffer the Darklord w/ Coolzey, Googolplexia

| | |
| --- | --- |
| | April 23, 2023 |
| | 7:00 pm |
| | St. Louis |
| | The Sinkhole |
| | Google Map |
Schaffer the Darklord (NYC)
https://schafferthedarklord.bandcamp.com/
Schaffer the Darklord (or STD) is a New York City-based rapper, drummer and
comedian with material best-suited for nerdy and/or hedonistic audiences. With manic
energy fueling a cartoonishly commanding stage presence, STD skewers such topics
as substance abuse, sexual compulsion, urban anxiety and obsessive cat-enthusiasm.
Imagine a Frankenstein-esque monster assembled from equal parts Bill Hicks, Adam
Yauch, Joey Ramone and Prince, stitched together inside the shell of a maniacal heavy
metal ex-patriot. STD has released nine albums and is a founding member of the
touring nerdcore hip-hop collective known as the Four-Eyed Horsemen, along with MC
Lars, Mega Ran and MC Frontalot. When he's not on the road, he produces the NYC
burlesque/wrestling hybrid event called "TasselMania." STD continues to write, record
and perform with great frequency and has no intention of stopping until his rock and
roll lifestyle destroys him.
Coolzey (IA)
https://coolzey.bandcamp.com/
Golden era hip-hop roots planted in black Iowa dirt and tempered by 90s alternative era rock
influence yields a juxtaposition of the dark, horrific nature of life paired with a slapstick and
comedic view of the world, allowing for a wide, unpredictable arsenal of material ranging from
soul-spilling indie bedroom rock to wise-cracking battle rap and on to radio pop.
Googolplexia (STL)
https://googolplexia.bandcamp.com/album/the-big-cd-little-cd
730pm – doors
8pm – show
$10
All Ages
https://www.facebook.com/events/552064527019999/
Adv tickets –
https://www.brownpapertickets.com/event/5761129